Roczen Again!
US Pro Motocross 2016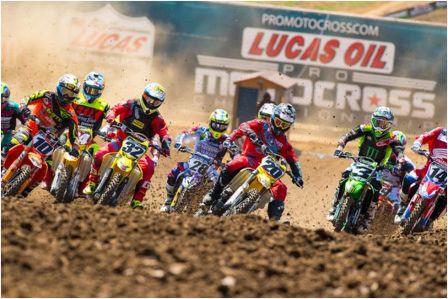 Now that's what we call racing! All four Muddy Creek motos offered superb action and drama, including the long-awaited Ken Roczen/Eli Tomac showdown in both 450MX motos. The 250s kept raging with the typical unpredictable action, to the point where two riders who had never even stepped on an overall podium before—Shane McElrath and Jordon Smith—were even in contention for the overall win at one point. It was that kind of crazy at round five of the Lucas Oil Pro Motocross Championship.
Eli Tomac momentarily passed Ken Roczen in moto one of the 450 class. Eli Tomac caught Ken Roczen with two laps to go in the second moto of the 450 class. He wasthisclose to pulling off a last-lap pass to steal the overall but just missed. Still, a huge step forward for Eli, who hadn't seen the lead for much of the first four rounds. Roczen narrowly held on to score his fourth 1-1 in five races this year. So the question is: is Tomac getting better, or did Roczen have a sub par day?
Roczen said he didn't feel as comfortable on this track as the others this year. He even struggled a bit in practice with some tip overs. "I didn't feel like home today on the track, and Eli crushed it today," Roczen said. "But for me it doesn't matter if I win by twenty seconds or not, he's been riding hard and I was able to keep him behind me, and that's all I care about and all that matters. So I'm just as happy as I was in the previous races where I had a bigger lead. It doesn't matter to me."
"We were both giving it our all there, obviously we both want it really bad," said Monster Energy Kawasaki's Tomac. "In the second moto I was closer in the end, nailing my lines a little better and getting around lappers a little better. I know everyone has to get through the same guys but sometimes they're tough, especially when there are big ruts like this. Another hard fought day, 2-2. The past few weeks I've been struggling in the first moto, so it was good to put everything together."
Roczen held on in both motos at the end but he won them both at the beginning. And we're not talking about starts. Tomac actually started just ahead of Roczen both times, but Kenny has become a master of blitzing the first lap and making quick passes. After the first moto, Tomac lamented on the podium that he lost the race by letting Roczen get past him on the first lap. Then in moto two, Tomac started ahead of Roczen but Roczen slipped past in traffic again! By the halfway mark Eli had followed Kenny through to get into second, but by then he was five seconds down. In the final ten minutes, Eli turned up the boost and started closing in a hurry, and the last three laps were an all-out flurry. They hit the white flag together and Tomac looked for an opening. He grabbed an inside line and absolutely murdered a corner to try to make a pass, but bumps on the corner exit upset his drive, and Roczen was able to slide back past around on the outside. From there Roczen rode a flawless final half lap to hang in there. Superb racing, and the Muddy Creek fans saluted both riders down the stretch each time.
The first 450 moto also featured an awesome early charge from Honda HRC's Cole Seely. He ripped a holeshot, got shuffled back to fourth, then charged back to the lead all in one lap! Then Seely marched away from the pack until he had about eight seconds on everyone. Roczen and Tomac finally caught him at the halfway mark and the three battled hard. Once Roczen and Tomac were through Seely finally ran out of steam, but his third was still impressive. He wasn't quite as strong in moto two, though, running fourth but eventually fading back to sixth—probably a bit spent after sprinting to Roczen/Tomac speed in moto one. His 3-6 kept him off the overall podium with fourth.
Third overall? With a 6-3 it was Roczen's Soaring Eagle/Jimmy John's Suzuki teammate Broc Tickle. That's his first podium since 2012. "It's been a long time coming, but the class is really stacked right now. I can't take anything away from anyone else," said Tickle. "I feel like I've been getting stronger every week, just coming back from my injury (broken wrist) in supercross. It seems like when I get hurt I get more motivated to come back and be better. Not that it's ever good to get hurt, but now I'm trying to get that momentum here at round five."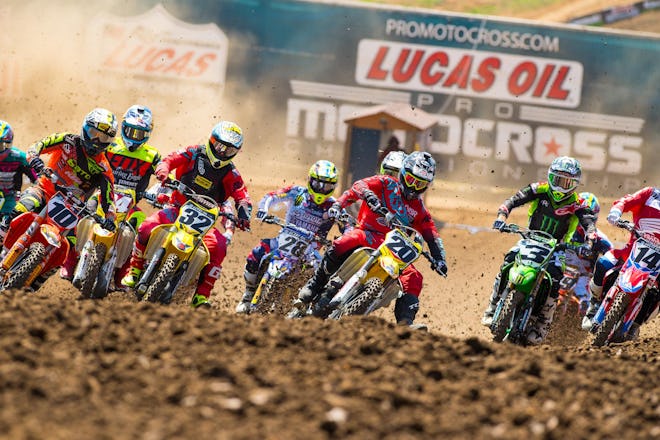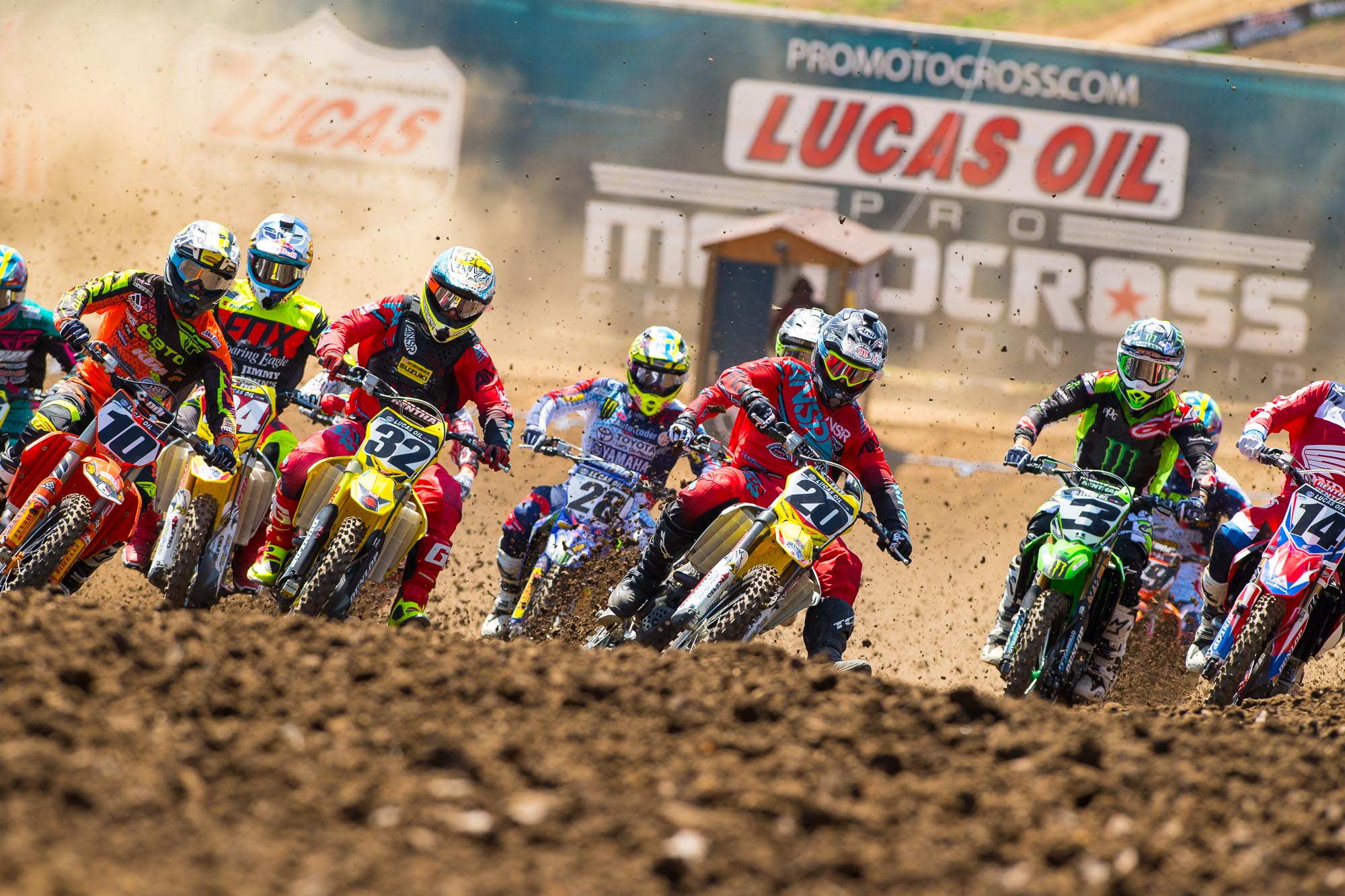 Tickle is from North Carolina and logged lots of motos as a kid at Muddy Creek, and he always excels in the ruts. The track worked well for him, and when he ripped a rare holeshot in moto two, it was on. "I haven't led a race since 2011 in supercross," Tickle said. "Haven't even led! So that was a good feeling." Roczen and Tomac slipped around him but he rode clean and smart from there to secure a podium.
Red Bull KTM's lone soldier, Marvin Musquin, crashed early in moto one and came all the way back for seventh. He was solid in moto two for fourth, and 7-4 gave him fifth overall. Fellow Frenchman Christophe Pourcel, of Rockstar Energy Racing Husqvarna, is finally getting back to his old form after a neck injury in supercross. He pulled out his old magic in practice to nail the best qualifying time in both sessions, his first fast qualifier award of the year. He was also a solid fourth in moto one. An eighth in moto two held Pourcel to sixth overall.
A much-needed solid weekend for Weston Peick on the Autotrader.com Monster Energy JGR Yamaha. He went 5-9 for seventh overall. Coming into the race, Peick had just one moto finish this season inside the top ten, which was an eighth in the second High Point moto last week. Finally some signs of progress over there for Weston. His teammate Justin Barcia looked a little more racy on this day than the previous rounds, too. He was trying to stick with Roczen going through the pack in moto one and attempted an aggressive pass on his teammate Phil Nicoletti. They ended up colliding and going down. Barcia DNFed the moto and came back for fifth in moto two. Nicoletti recovered from the first moto crash to salvage tenth, but then didn't finish moto two.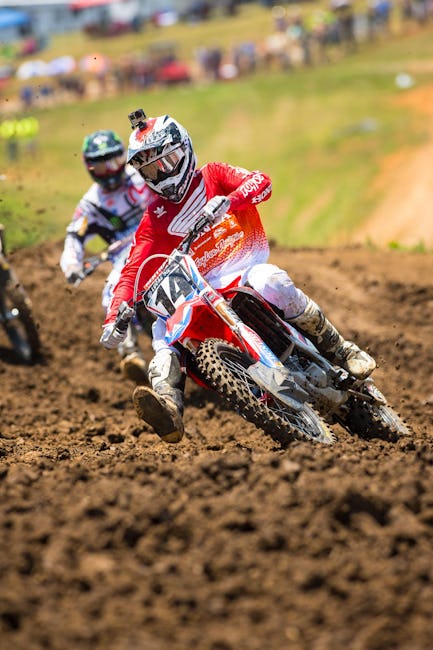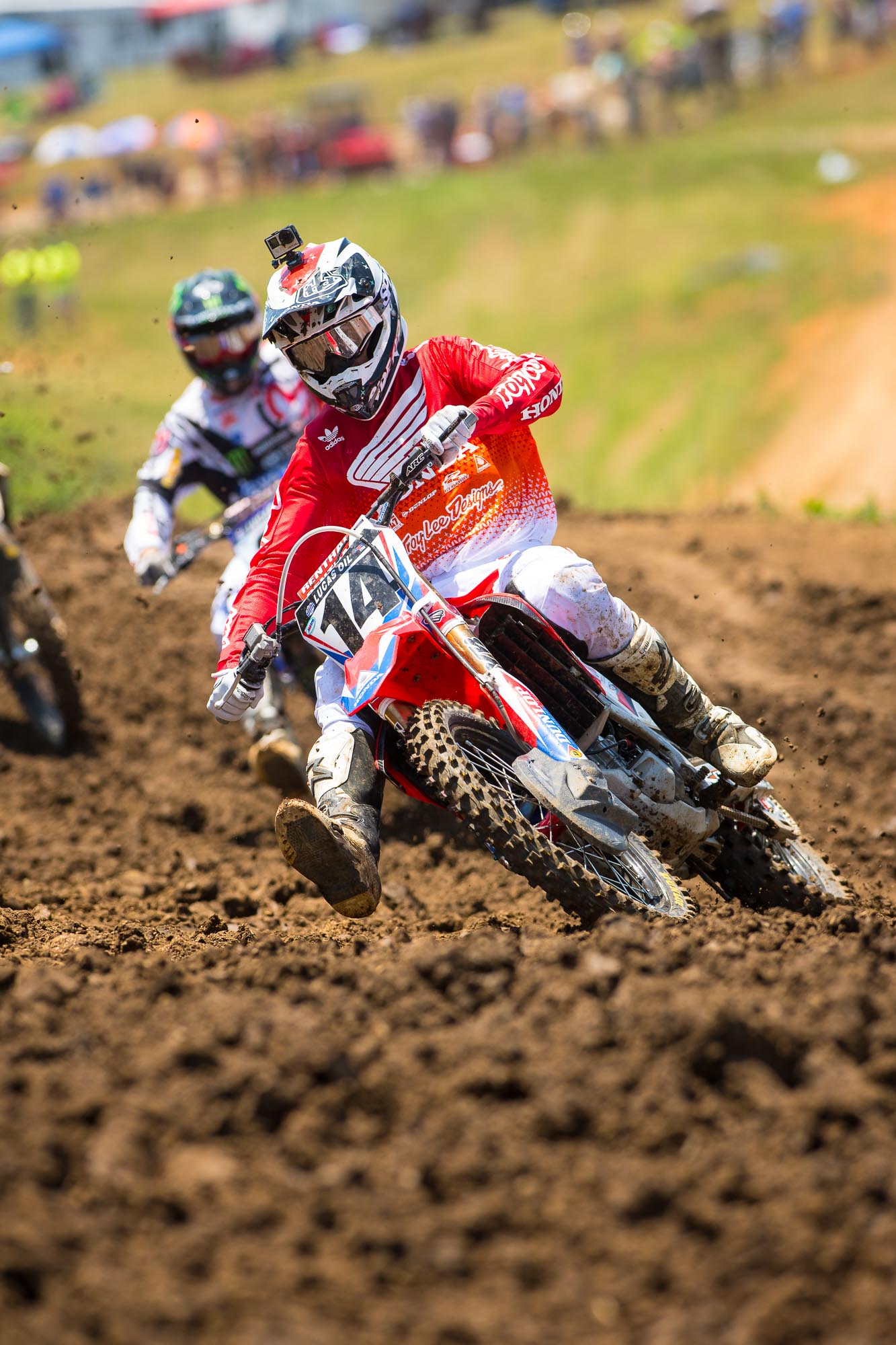 The 250MX points leader Joey Savatgy won the first 250 moto pretty handily. At that moment it really looked like Joey, winner of three of the first four rounds this year, was taking control of the series, especially since his championship rivals from the Yamalube/Star Racing Yamaha team all struggled with bad starts in moto one. But just as quickly as things materialize in the 250 class, they fall back apart. Savatgy crashed twice in moto two, relegating him to seventh. He was as far back as twelfth at one point, and admitted he was completely exhausted at the end of the moto trying to fight back after the crashes. Typical Savatgy, he took the blame on himself for the mistakes. "At the end of the season I could be looking back kicking myself about those points I lost," said the Monster Energy/Pro Circuit Kawasaki rider. "Supercross, I lost the title by one point. One point. I could have easily gained one point. But I'm the one riding the bike. It's on me and we've got to clean that up."
Savatgy's second-moto troubles opened the door for the local heros in the 250 class. Yamalube/Star Racing Yamaha's Cooper Webb made the podium last week at High Point but he was pissed because he didn't ride well enough to win. He said Muddy Creek, his home race, would be the one. It was, but only because of a hero effort down the stretch in moto two. Webb came through the pack and settled for second behind Savatgy in moto one, and says his trainer Gareth Swanepoel yelled at him for settling after the race. He settled for nothing in moto two. Third late, Webb rallied past his teammate Alex Martin for second, and 2-2 was plenty for the overall since Savatgy was headed to a 1-7. He wasn't done though.
Up front, GoPro/Troy Lee Designs/Red Bull KTM's Shane McElrath was logging the race of his life. A strong fifth in moto one, McElrath, like Webb a North Carolina native who raced at Muddy Creek a ton as an amateur, looked incredibly smooth and solid leading, holding back the advances of AMart in second. At one point, with Webb further back, McElrath held the overall lead. Then Webb went nuts, got Martin for second, and logged a lap a full four seconds (!) faster than McElrath with two to go. On the last lap Webb charged to the inside on an off camber and took the lead. McElrath rode well, Webb was just too hard to stop down the stretch.
"I didn't make it easy on myself with the starts I got, I put my head down in both motos," said Webb. "Second moto I wasn't going to give up. I made some passes, some aggressive ones, but all in all a good day. We tested a lot this week on the east coast and we got some really good settings and feedback. But I think what honestly helped this week was the fans. I could hear them on the fence and it made me just keep going, keep going no matter what. I saw Joey crash and for a split second I thought I should be smart, but I did end up crashing, but he crashed again. I could have easily settled for third, and I'm stoked that I didn't and I kept pushing. That's the best I've ridden in a long time."
"This is what I expected out of myself," said McElrath. "Like everyone else, we've been working hard. I knew the first moto it was hot and guys were going to fall off a little bit in the second moto. I put it on myself to get a good start. I sprinted the first few laps and fought for it, that's what I've been working on. Little past halfway I saw that I had pulled like a second lead or something, so I just told myself to sprint. But It was rough and pretty hot, lots of lappers, mistakes just weren't something you could get away from. I made some. I felt like I should have won that one but Cooper rode good."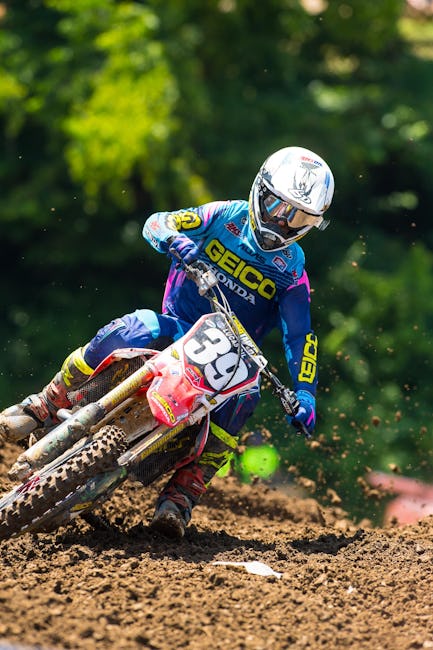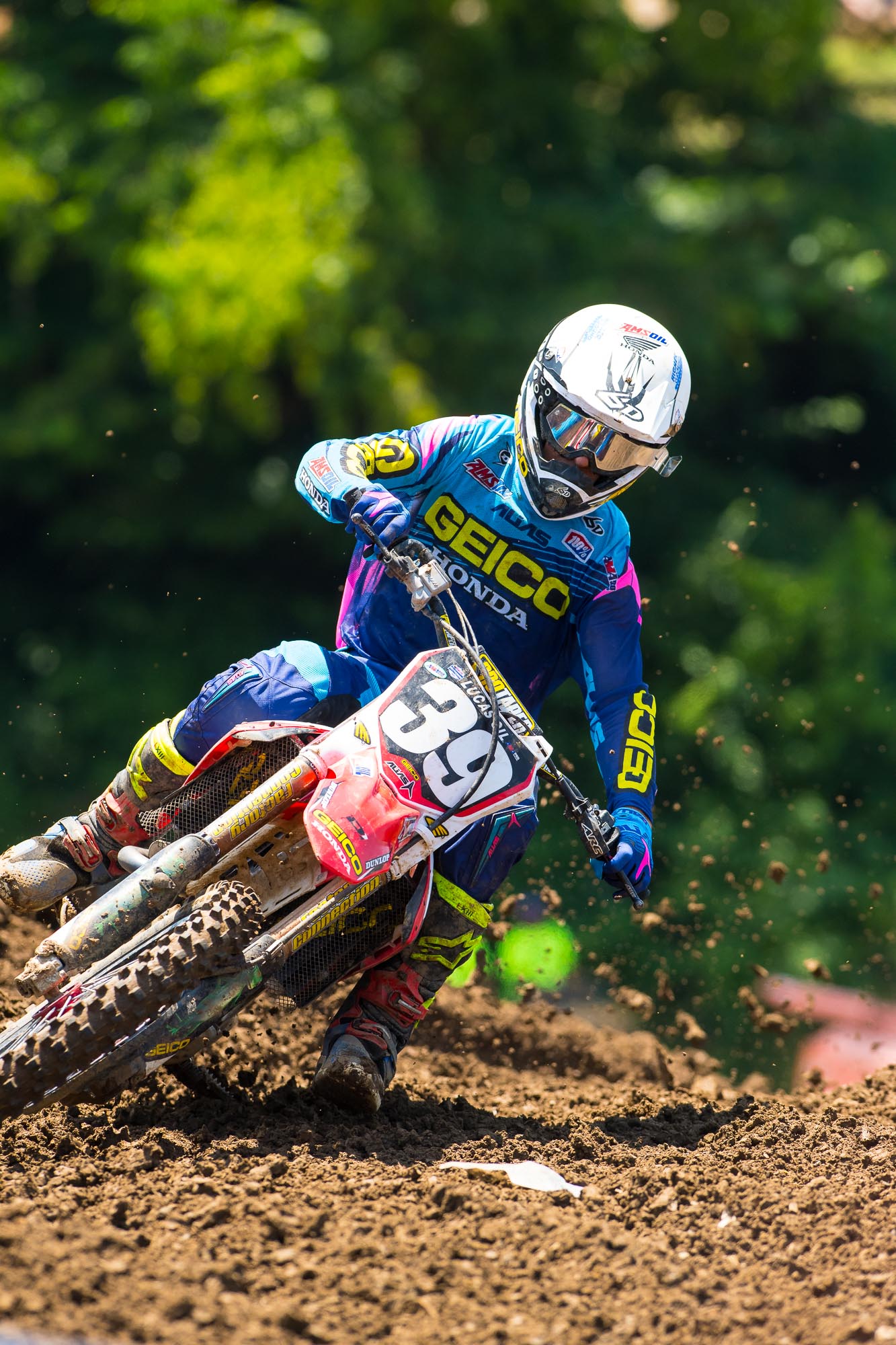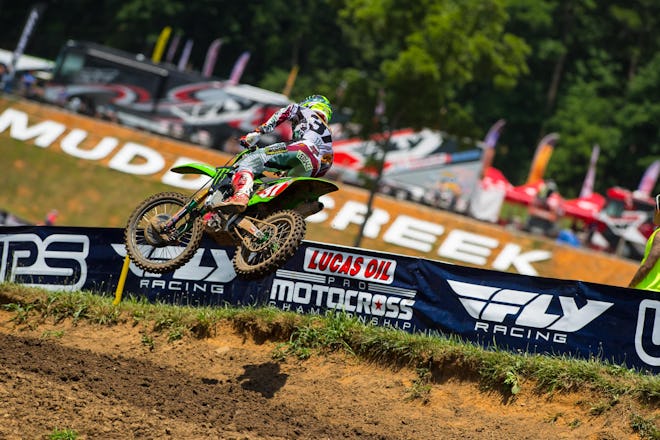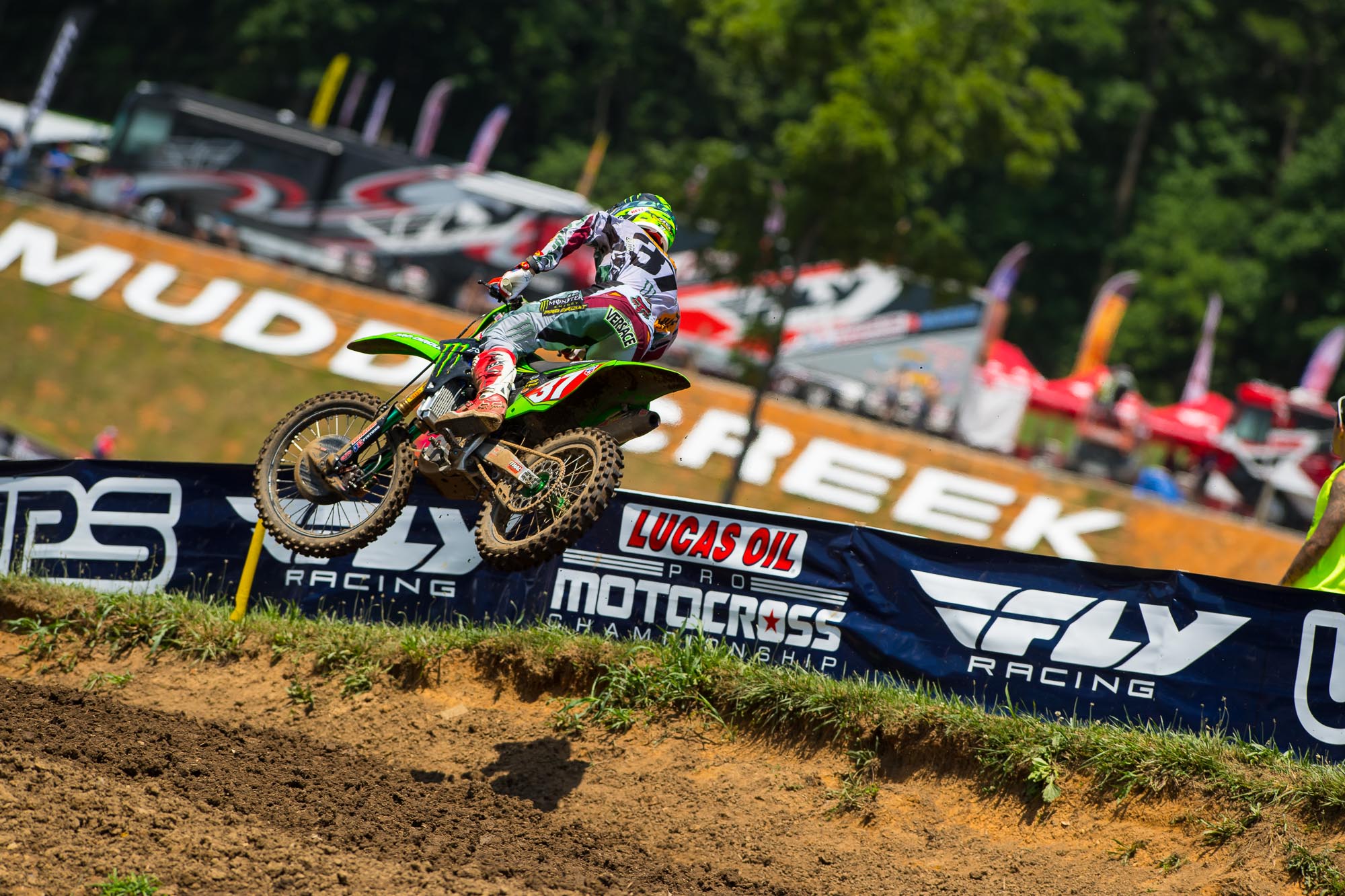 The 5-2 pushed McElrath to third overall, just edged by Savatgy's 1-7. Webb makes up eight points on Savatgy, trimming a twenty-point lead down to twelve. It was a rough one for some of Webb's teammates, though. Jeremy Martin struggled uncharacteristically, going 6-5 for fifth. Alex Martin crashed in moto one and took nineteenth, he bounced back for third in moto two. Aaron Plessinger was down off the start in both motos and ended up thirteenth overall.
Last week's first moto winner, Zach Osborne, was a strong third on the Rockstar Energy Husqvarna in moto one. In moto two he crashed early and charged back for tenth.
Breakthrough day for GEICO Honda's Jordon Smith. He finally, finally, rid himself of the one good moto/one bad moto funk by posting 4-6 scores for fourth overall. Smith had two good starts and was up front most of the day, but said arm pump midway through each moto cost him. "I wasn't even feeling tired," said Smith. By the way, he's also a North Carolina native who did a lot of racing at this track growing up. He nearly combined with McElrath and Webb for an all North Carolina podium!
Coulda' shoulda' been a good day for Adam Cianciarulo, who holeshot moto one and led before a fall. Then he fell again. Small crashes have been a huge problem for AC, and he did go down again while battling near the top five in moto two, but this wasn't his fault. He and Webb had lines come together and they ended up colliding and going down. Webb apologized on the podium and said the pass and crash was not intentional, but we saw Cianciarulo after the moto and he was not happy about it. He ended up twenty second in the moto.
His rookie teammate Austin Forkner was fast again. The first moto was okay with a tenth, but he was strong right to the end of moto two with a fourth. The 10-4 finishes gave him seventh overall.