Santa Clara Race Report
US Supercross 2016
www.racerxonline.com by Aaron Hansel
450 Highlights 250 Highlights Post Race
The Racing Report
The mental game is a huge part of racing and riders are always looking for something to give them an edge in that department. That includes a break in the schedule, and after taking Easter weekend off, a lot of guys were coming into Santa Clara rested and excited at the prospect of jumping back into the swing of things, well, swinging! But could a single off-weekend make much of a difference? Not so much, it turns out, and most of the trends we've seen all season continued in Santa Clara.
For starters, Eli Tomac's habit of getting out of the gate poorly continued. It wasn't as if the Monster Energy Kawasaki rider didn't have speed tonight either—he was the day's fastest qualifier and ripped back up to seventh after finishing the first lap in sixteenth. Getting the start was especially important too, as tonight's track didn't offer up much in the way of variation, and it was more about putting in clean, mistake-free laps than it was finding new, creative lines through rhythm lanes.
Another trend that held true is one most of the 450SX riders have got to be sick of. Yep, Ryan Dungey got a good start, took the lead, and led all twenty laps. Roczen didn't make it easy on him though, pressuring him hard for a significant portion of the race. "It felt good to get a win here tonight," Dungey said afterward. "Any win is great. Kenny was putting the pressure on and that made it tough. It wasn't the kind of track where you could gain anywhere, you would just lose if you made mistakes and lost the rear. You could lose a lot of time in one lap, and I just tried to stay focused on keeping the traction in the rear. It was just being consistent while keeping the intensity up for twenty laps. That whole race, we were pushing the pace pretty hard. But that's good. It's what we train for and it's how we practice so it's not such a shock at the race. Every race is a lot of work and there's a lot of effort that goes into each night."
If you're wondering what happened to James Stewart in the main, well, you're not alone. What appeared to be some kind of problem with Stewart's bike, possibly electrical, started during the 450SX main and continued for a few laps before Stewart pulled off the track. He was visibly upset, and for a minute it looked like he was going to use his seat as a punching bag. After the race we went to the Yoshimura Suzuki pits to try to get the story, but were politely told the team wasn't commenting on what went wrong. One thing's certain—2016 isn't going well for Stewart.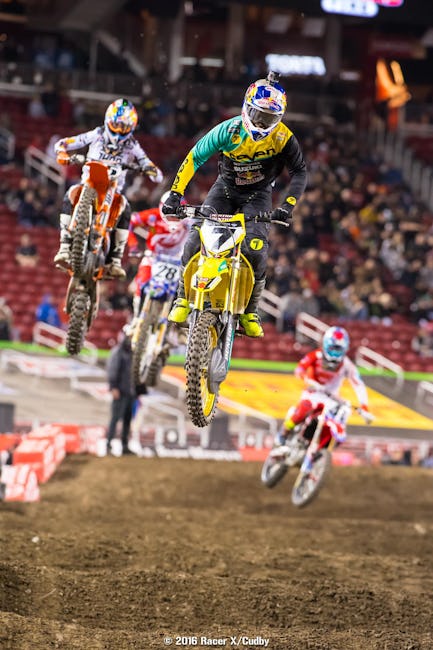 Tonight was the very first time Auto Trader.com/JGR/Toyota/Yamaha front men Justin Barcia and Weston Peick both raced the main. Peick missed the first two races, and when he came back Barcia was already gone due to the thumb injury he suffered before the season on his mountain bike. So how'd it go? Not great, but not entirely terrible. Weston Peick finished eighth, which isn't too bad, but it could have been better. After the race he told Racer X's Steve Matthes he had problem with his hand toward the end and basically ended up just letting Tomac go by. Definitely not Peick's style, right there. And Barcia? After showing speed early in his heat race before crashing, he didn't have the best main. He finished sixteenth and was lapped by the leaders. Look for him to be better next week as he gets back into the swing of racing.
The boys out west may have been on break, but it didn't seem to make a difference for Cooper Webb, who told us he'd spent most of his time off testing for outdoors. He took the win the hard way too, starting poorly and running through the pack with his main competitor, Joey Savatgy, on his tail. "We've been working a lot on outdoors and maybe haven't put enough emphasis on supercross, but it all worked out," Webb said. "Maybe we'll do a little more supercross before Vegas."
Webb also admitted to having a big crash during the week and he was even sporting a small cut by his left eye to prove it. Interestingly enough, when we questioned his team about it in the morning they told us there hadn't been a crash and that Webb was just fine. Well, we now know he did indeed have a significant get-off, but they were telling the truth when they said he was just fine!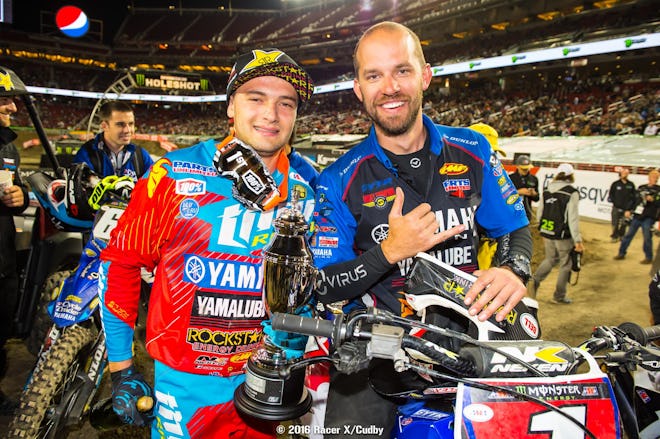 Second place is great, but if you're Zach Osborne you're probably not extremely happy about it. Osborne led eleven of fifteen laps, and looked to be closing in on his first win before he succumbed to Cooper Webb's onslaught. Afterward Osborne said the track was one where everyone was doing the same thing, and the key was to just click off clean laps. "The track was basic and there wasn't much separation, and turning mistake-free laps was important, and that's something I typically excel at," Osborne said afterward. "Felt like I had a good chance and maybe let one escape. But other than that it was a good day. To win the heat race, holeshot the main and lead eleven laps is solid. I just came up a little bit short. Caught two lappers in really bad starts and that chewed my lead down. Then he [Cooper Webb] went straight down the inside of me. Kind of a bummer there, but at the same time it was a positive result."
Joey Savatgy's night definitely didn't go how he wanted it too, despite ending up on the podium. The Monster Energy/Pro Circuit/Kawasaki rider didn't get a good start and spent all night chasing Webb through the pack, including Webb's teammates, Mitchell Harrison and Alex Martin. He didn't let Webb get away, and at one point was even closing on him until some lappers held him up a little. Still, a frustrated Savatgy refused to use that as an excuse when we spoke to him in the pits. "I got the gap on Webb down to 1.3 and it was over two seconds at one point," Savatgy said. "I was clicking the laps off and started catching him, and he was catching Osborne and we were all getting bunched up. The blue flags were out, and whether some people didn't see them or just didn't want to move, well, it is what it is. At the end of the day I didn't get the start I needed and that's the reason we didn't win. But we came out of here with twenty points and we still have a shot at the title. It's never over till it's over, I just made it a little harder on myself. Overall I'm happy though. I rode well, just didn't get a good start. That's basically it."
Alex Martin, who always seems to ride well in Northern California, had a great night going and was even looking at a possible podium before he crashed in a corner. We didn't get a chance to talk to him afterward, but Webb told us he believes Martin has gotten much faster since they started training together and says it's only a matter of time before his results start showing it.
Finally, if for some twisted reason you enjoy watching big crashes that look incredibly painful, take a minute to do an internet search on Hayden Mellross' crash in the main. Mellross somehow rode the front wheel all the way up a berm, launched off, got separated from his bike, and stuck a sickening landing on a metal fence right by the starting gate. It was definitely ugly.
450 Main
The holeshot went to Jason Anderson, but not before he got together with Justin Brayton, who went down in the first turn, along with Nick Schmidt. Ryan Dungey, Ken Roczen, Justin Bogle managed to get by Anderson in the first lap, and a couple laps in Dungey was looking to check out. Ken Roczen wasn't having it though, sticking right with him. Bogle meanwhile had surrendered spots to Anderson and Chad Reed. Eli Tomac was buried way back after a terrible start. Stewart was running about sixth when something happened to his bike, and he almost went over the bars when he landed over a triple. He wasn't the same for a while after that and it looked like something mechanical was going on with his bike. A lap or two later he pulled off, visibly upset, and went back to the pits.
Up front Roczen was all over Dungey, showing him a wheel just about everywhere but Dungey was tough, holding off Roczen and getting a bit of a gap back. Behind them the pack was pretty spread out, with not much battling going on, unless you count all the lappers Dungey and Roczen were getting into. With a few laps left Dungey had put a few seconds on Roczen and brought it home for the win. Roczen took second, Anderson third, and Reed fourth, who barely held off a hard-charging Trey Canard on the final lap.
250 Main
Zach Osborne got out to the lead immediately and started pulling a gap, while Cooper Webb and Joey Savatgy were a bit back after mediocre starts. They started picking their way through, but not before a scary moment when Hayden Mellross launched over a berm, got disconnected from his bike, and literally landed on a metal fence next to the start gate. It looked extremely painful, and his night was done right away.
Back in the race Webb and Savatgy were slicing through the pack, with Savatgy matching Webb's pace, mirroring every move and pass, even going through Webb's teammates, Mitch Harrison and Alex Martin. Speaking of Martin, he went down by himself and lost a bunch of spots, eventually finishing ninth. As the race wound down Osborne had a decent lead over Webb, but all of a sudden it just evaporated and Webb pounced, taking the lead. Savatgy kept charging but couldn't get Osborne. Webb won, followed by Osborne, Savatgy, Christian Craig (who pretty much rode a lonely fourth), and Mitch Oldenburg.
Morning Report
For starters, we're coming off the only break of the season so riders who may have been nursing some small injuries have had extra time to rest up and come back to Santa Clara refreshed and ready. We've also got several big names returning to action this weekend. James Stewart will be back racing for the first time since deeply bruising his lower back in Daytona, and Justin Barcia is back at it after bowing out early to let his thumb heal, which was injured in a mountain bike crash early in the season. Even Josh Hansen is racing today! For a full list of who's in and who's out, go here. Unfortunately, Cole Seely should be on that list. Seely crashed during the week and will miss tonight's action. Go here for more info.
There's plenty happening in the 250SX Class as well, which is back after being on break for several weeks. When we left off Cooper Webb had retaken the points lead from Joey Savatgy after Christian Craig and Savatgy got together in the whoops in Arlington, with Savatgy going down hard. No doubt Savatgy, who sits eleven points back of Webb, wants to get back to the winner's circle tonight, but you know Webb, as well as the rest of the boys, want the same thing. Oh, and if you've caught wind of the internet rumor about Webb being questionable for tonight after a big crash during the week, his team says it's false. We stopped by the Yamalube/Star Racing/Yamaha pits this morning and they told us Webb hadn't had any notable crashes and is completely fine. In fact, they didn't even seem to be aware of the rumor at all! For a full recap of 250SX West, go here.
When the riders hit the track for qualifying they'll be greeted with a layout that Adam Enticknap described as a little tighter than normal. We overheard a few riders calling it a bit weird, although it didn't come across as positive or negative. The track is pretty rocky, but it didn't seem as bad as last year, when everyone was jokingly comparing it to an Endurocross track. There are two sets of whoops—one long, one short—but the whoops in the long (thirteen whoops) set are substantially larger. They seemed big, but Kyle Cunningham told us they were about average. Elsewhere the track was a bit dry, and with the sun already shining directly overhead, the track crew is going to have their hands full keeping the dust down. The hoses are out as this report is being typed, so it appears they're on top of the situation.