The Pain Game
and Cooper Webb
www.racerxonline.com By Jason Thomas
What a weekend for Cooper Webb. Coming into San Diego, Webb had been absolutely dominant in recent weeks. His pace was blatantly obvious to everyone paying attention and it seemed he would come to the front no matter where he started. He held an 18-point lead, but it felt like it could be much more. He just looked to be in complete control of the series.
Then the unthinkable happened.
In the first timed qualifying session of the day, Webb seat-bounced a difficult triple just after the second turn. It was a tricky jump and the track was not in the best condition during that practice, but racers push the edge in timed qualifying. That's just what it takes to put in fast laps. This attempt, though, would go horribly wrong. As he exited the turn, he just didn't get the drive he would hope for. To compound that, he was very far forward. Too far forward, even. It wasn't really an endo, but it was close enough to catapult him off the bike when he came up short on the jump. He hit with his head, neck, and top of his shoulders directly into the next five-foot jump. It was scary to watch, and if it wasn't for the fact that he immediately jumped up, it would have been much more worrisome. Still, though, that type of crash has injury written all over it. He was favoring his left side as he stumbled off the track, and everyone had to wonder if that was it for the night and possibly this championship. After putting in so many impressive rides, and looking to have already taken command of the championship, one crash could end it all. As he rode off with his left arm ominously hanging down, minds began to race as to how this would play out.
When he didn't show for the second timed qualifying session, it wasn't a huge surprise. We have seen this over the years from Stewart, Reed, and others after a big practice crash. I would assume he had X-rays done and, after seeing that the injury wasn't life threatening or too serious, all efforts would be put towards getting him ready to race. The team chiropractor would be hard at work trying to remove inflammation and settle the trauma to Cooper's back and shoulder. Managing the pain and just trying to get through the night is the goal. Riding as close to normal is ideal, but that's really tough to predict before the actual race. There's no real way to know what it will feel like until the gate drops.
This is exactly what I saw from Webb on Saturday night. In his heat race, the first few laps were very, very tentative. I think he was completely guessing as to what he would be able to do out on the racetrack. How hard he could ride, what motions would be painful, could he withstand a big impact: those are all questions I think were running through his mind on those opening laps. As he loosened up a bit, he started to ride harder but certainly nothing like what we have seen from him at full capacity. He qualified easily, though, and his team breathed a big sigh of relief, undoubtedly. He would then have an hour or so to receive more therapy, ice, and pain relief methods before the main event.
Going into the main event, I fully expected him to be in damage control mode. Go for a good start and then just let the race fall into place. Avoid altercations with anyone (see: Bowers) and salvage as many points as possible. As the first few laps unfolded, I feel that's exactly what he was doing. He let Bowers go and seemingly wasn't worried about the win. Cooper was putting in solid laps and getting the job done. A few laps passed and he was still hanging around in second, just trying to get through to the checkers. A funny thing happened, though, as Tyler Bowers actually started slowing down! I'm not sure if Bowers got arm pump or was weakened due to a rumored sickness but one thing is for sure: His lap times fell off significantly and Webb's did not. Webb rode up to the rear of Bowers and then went around him without incident. He continued to click off his laps, maybe not as aggressively as before his crash, but still at a very good pace and good enough to win in San Diego. Even in his injured state, he was still good enough to win. Impressive stuff from a kid in only his second season.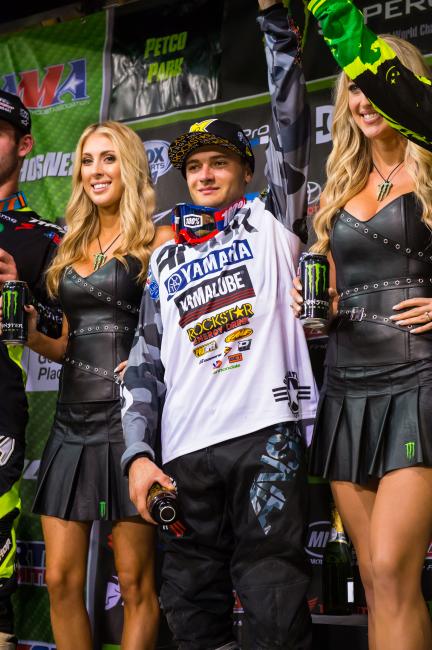 Leaving San Diego, Webb has a 30-point lead. With two rounds left and two months to heal, he has to feel great about his chances of securing his first-ever championship as a professional. Looking back on Saturday, though, things could look so much different had Webb not been able to tough it out. If Webb had sat out, Bowers would only trail Webb by 5 points with two rounds remaining. With the past conflict between these two, it would truly be anyone's title.
Webb didn't sit out, however, and put himself in great position. Even though he made a huge mistake and paid a hefty price, he made good decisions, had great people around him to help, and gutted out a win against unlikely odds. If he does go on to win this title, San Diego will surely be a night he can look back on and with pride. Some nights are easier than others in racing, and that had to be one of the hardest he has ever dealt with. I can guarantee you when he crossed that finish line, though, that he was feeling no pain.