Thunder Valley
US Pro Motocross 2016
www.racerxonline.com By Aaron Hansel and Jason Weigandt
Another race, another day of domination for Ken Roczen and the RCH/Soaring Eagle/Jimmy John's/Suzuki Factory Racing team at the True Value Thunder Valley National. Whatever Kenny's doing, it's obviously working for him, as he was about as close to perfect today as you can get. The only thing he didn't do was score the fastest lap time in practice, but when you go 1-1, nothing else really matters. Afterward Roczen said as long as he goes fast enough in practice to get a decent gate pick, he doesn't really care about posting fast times. He also talked more about his diet, something he's been somewhat vocal about lately, when prompted by the media in the press conference.
"I put in my work, believe me. My mental strength comes from there, and I'm also eating good. It's not like I'm eating a donut every day, or any other kind of pastry. I got my bike dialed and I could probably eat a pizza before riding and still feel good on the bike. It's not going to affect my mentality going into any kind of riding. There are riders who only go after the salad, the nonfat, whatever, and there are other riders like me who don't just eat nonfat or whatever. You can definitely live a little."
Ryan Dungey was second overall today, and even though he wasn't happy, it could have been much worse. The Red Bull KTM rider crashed on the first lap of the second moto while making a pass for the lead. "My front end just got in a little rut, and it was on that little hip jump so it was kind of awkward. The rear got kind of caught up sliding in the rut, and it kicked and kind of sent me in the air in a pitch. I thought I had it saved, it wasn't like it was too far gone, but once I hit I tucked the front. Thankfully we could get up, put on a charge, and pass as many guys as we could."
Dungey was complimentary of Roczen's performance, but seemed confident he'd be able to close the gap at some point. "It's just a matter of time. This weekend off comes at a good time, and we can keep building on it. We'll get a little bit of a break, but we can keep working and progressing. It's not like we're too far off. It's racing, and I think people look at me and they're like, 'Jeez, what's your problem?' Well it's racing, and you get challenged. What would it be if you didn't?"
In third overall via 5-2 scores was Eli Tomac, who continues to destroy the field in practice but just can't seem to get good starts no matter what. After the race he was clearly frustrated, and made no attempt to defend his starting ability.
"Right now they're [starts] not acceptable at all, I'm getting totally worked. If you want to win races or battle for the lead you have to be up there closer, and that's something I haven't done yet. The second moto was more promising today, as far as the riding itself, I just have to beat them to the first turn."
Tomac also admitted that coming to Thunder Valley, the same track where he crashed out of the season last year, weighed on his mind.
"In practice and on press day, that section, how do you not think about it? But I got through it, put the past behind, and got through the day. It's something we conquered."
After losing the 250 points lead last week at Glen Helen, Joey Savatgy was brilliant at Thunder Valley, going 2-1 for the overall and getting the red plate back. He should have had 1-1, but he crashed late in the first moto and gave up first place to Jeremy Martin. Afterward he admitted he was under the weather last week, but was hesitant to use it as an excuse.
"Last week, it was unfortunate how it went and I'm not going to sit here and make excuses. I was under the weather and didn't ride well and didn't get good starts, but I didn't put myself in a position to win so it's nobody's fault but my own. Under the weather or not, I need to be able to perform all the time. I moved on from it and was able to rebound here. I got good starts for the most part today, and I had a good week with Jeannie [Carmichael] back at the farm and we put in a lot of work."
When asked about his highs and lows, Savatgy said he had both. "Coming from eighth in the first moto, passing Jeremy Martin and Cooper Webb, and putting time on them, that's a confidence booster. Those guys aren't slouches, and to be able to come from behind and catch them, that's good for me, a pat on the back. I think crashing took the wind out of my sails momentarily though. It was one of those deals where I was frustrated and angry at myself for making a mistake like that. When I had that lead I should have been a little bit more cautious. I wasn't, and I learned from it.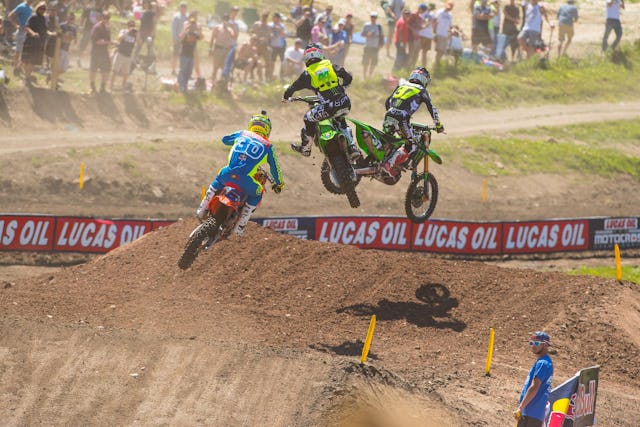 Jeremy Martin talked about being under the weather too, and said he felt the effects of an illness at the first two rounds and even a little bit at Thunder Valley.
"We're three rounds in and obviously my brother [Alex Martin] is going to be strong, Joey's strong, Cooper's strong, and I feel strong. But I don't feel great. I don't feel like I had the fitness I had last year. But you know what, there are lot of rounds left and I'm going to get better. I have a great group of people around me and I'm excited. It's been three rounds and I've been sick at round one and two, and round three is the best I've felt, but I was still hacking after the motos. But you know what? I'm only three points down, so to me, that's pretty dang good."
Alex Martin had a good race going today but it was cut short early in the first moto when Aaron Plessinger accidentally took him out. Martin lost a boatload of spots but kept charging, eventually getting back up to eighth. In the second moto he got up to second and was challenging Savatgy for the lead but wasn't able to get quite close enough.
"That's the second time now where he's stepped up his game as soon as I get up to him. It was a pretty epic battle and I'm pretty excited to go watch it on TV. He had his spots on the track where he could kind of get away from me and I was forced to take other lines and try to get next to him or make a pass, but by taking different lines I'd cross-rut or get out of shape. We were definitely yo-yoing back and forth there. I tried to put on a surge on that last lap and I got close, but not close enough."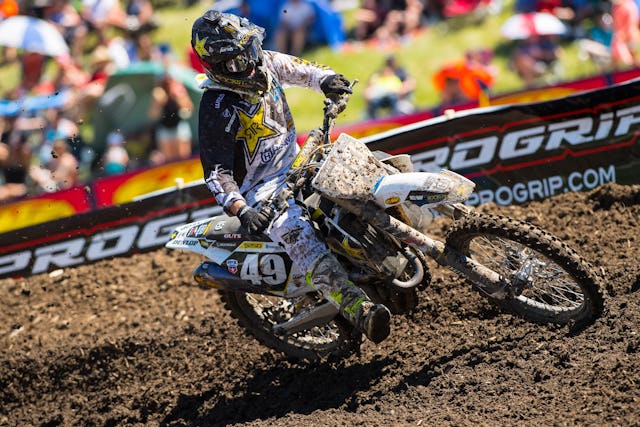 Elsewhere plenty of riders had a breakthrough day, like HRC Honda's Cole Seely, who is working hard this summer to shed his "supercross guy" rep. Seely got a terrible start in the first moto, and the slow-starting Eli Tomac caught up to him. But Seely didn't yield, and instead led Tomac as they both charged from outside the top 10 to the top five. Late in the moto, Tomac finally got him, but Seely came back in moto two to battle his teammate Trey Canard for the holeshot. With a much better start, Seely did much more damage, passing Canard for the lead and holding the top spot for a bit. He didn't have the stuff to hold off Roczen or Tomac, but when Dungey got to him late, Cole held his ground to hold the champ off and grab third. 6-3 scores left him fourth overall. "Really proud of both guys [Seely and Canard] today," said Honda Team Manager Dan Betley. "I think Cole has gotten to a point in his career that he recognizes his weaknesses. I don't even care about the results right now, as long as he's building into a better rider in the future."
Canard had one of those strange days. With a so-so start he rode great in moto one and finished third, believe it or not his first visit to the podium all season. He holeshot moto two but actually rode worse, leading a bit but dropping back once Seely got around him. His 3-6 gave him fifth overall. Hey, at least his recent run of good starts continues!
Josh Grant. Josh Grant! The Monster Energy Kawasaki rider keeps moving further forward, with 8-8-6-6- scores in the first four motos topped by a 4-7 today. He was in a battle, it seemed, the whole way, dueling with Canard for a ton of each moto. Grant tells us the time off he had at the start of the season—when he didn't have a ride and started to think his career could be over—has actually worked out for the better, because now he's having more fun at the races than he's had in a long time. He admits he's still a little behind on training since he didn't do much riding until his Kawi fill-in ride kicked in midway through supercross, but he says with each moto he logs during the week, and at the races, he feels stronger and stronger.
By the map, this race is closer to Jason Anderson's hometown of Rio Rancho, New Mexico, than any other, but we've always heard he struggles with altitude sickness. He certainly did today. While running third in the first 450 moto, the Rockstar Energy Husqvarna rider, who was fourth in points coming into the race, got sick and pulled out of the race, and his day was done.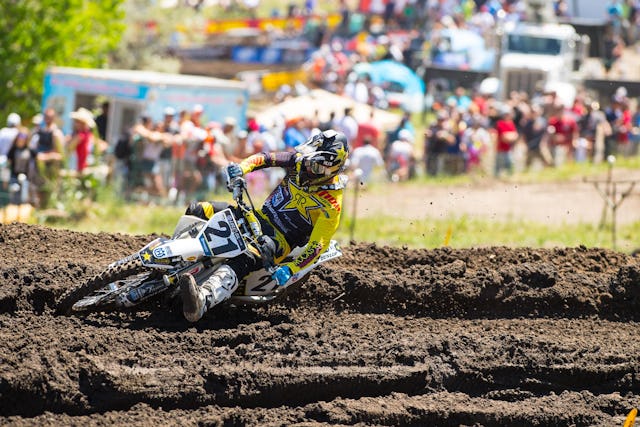 Marvin Musquin hasn't caught fire in 450MX the way he did halfway through the supercross season, but his second moto was a significant sign of life. He crashed twice in the first moto and fell so far back that he pulled off for a DNF. That gave him the 31st gate pick in the second moto, and a bad start, but when his teammate and training partner Dungey passed him, he said "I decided to just try to make it like we do in practice" and he suddenly started flowing and riding well. His charge to fifth was his season-best, the previous was a seventh at Hangtown. "I really needed a good ride like this," said the Frenchman.
Matt Bisceglia's fill in ride with Yoshimura Suzuki worked out quite well, with 10-10 scores for eighth in the 450 class. It was Bisceglia's first-ever 450 race as a pro, and he said he exceeded his expectations, especially considering his lack of prep time—only this week on the bike, and he hadn't raced the first two rounds of the series. But Blake Baggett and possibly James Stewart will be back for the next race at High Point, so this was expected to be a one race deal. Bisceglia says he just hopes something works out and maybe he can keep the relationship going.
Signs of life from Adam Cianciarulo. His first moto ended up well with a sixth, his best of the season, and he holeshot moto two and ran second behind his teammate Savatgy for a while. Then he crashed in the rollers on the first uphill and his moto was over. His bike was twisted up but we hear Adam is okay.
Aaron Plessinger should have had a better day than a 14-10, but he crashed while running third in the first moto (and took his teammate Alex Martin with him), then started poorly in moto two and couldn't come through. He was fast, just not as crazy-fast as AMart was coming through the pack. But meanwhile, quietly, you know who was good? The fifth man on the Yamalube/Star team, Mitchell Harrison who went 11-11 for tenth overall.
450 Moto Two
There was a bit more action up front in this one than the last, but not much. Trey Canard kicked things off with a holeshot with his teammate Cole Seely in tow. The two battled for the lead, with Seely ending up with the spot. Ryan Dungey had a terrible start and found himself completely buried in the back, finishing the first lap in nineteenth. He struggled to make quick passes but was still able to work back up to fourth. Ken Roczen's start was much better, about fifth, and after a few laps he'd caught and passed Seely for the lead. From that point he was gone, and about the most exciting thing that happened up front at that point was when Roczen busted out a holeshot when he took the checkers.
Tomac didn't get the greatest start either, finishing the first lap in thirteenth, but he rode great and started blowing through guys with urgency. He got up to second, putting Seely in third, but by that time Roczen had about eleven seconds on him and was riding too well to be caught. Josh Grant ran as high as third after passing Trey Canard, but ended up either fading just a little or making a mistake out of view and losing some spots. That allowed Justin Barcia to close on him and the battle for seventh was on. Lap after lap the two went at it, yo-yoing back and forth. Barcia put plenty of pressure on Grant, but Grant refused to crack. The two were going so fast they caught back up to Canard and nearly passed him. When they took the checkers all three riders were in the air at the same time over the finish line jump.
250 Moto Two
The racing in the 250 Class continues to be superb here at the True Value Thunder Valley National, although when Joey Savatgy took off with the lead on the first lap it looked like things just might get boring. Thanks to Alex Martin, they didn't. But before Martin even got close to the lead, Martin Davalos, who was running second after Adam Cianciarulo had issues and retired early, got close to Savatgy, and it looked like he might actually challenge for the lead. He feel off the pace ever so slightly though and ended up falling victim to a hard charging A. Martin and later, Jeremy Martin. He had fourth all but wrapped up but Austin Forkner zapped him on the last lap.
After A. Martin got Davalos he took off after Savatgy. After a few laps he was right on him, and given that he'd been able to catch him a pass seemed imminent. But Savatgy must have clicked into a higher gear because lap after lap, A. Martin struggled to get close enough to put a move on Savatgy. At times he was literally inches away from being able to make something happen. Savatgy rode perfectly though, and A. Martin's charge would end in second place. Still, big credit to A. Martin for charging up to Savatgy, and huge props to Savatgy for deftly handling the pressure to take the moto win, overall, and points lead. Check out A. Martin's moto scores. For the second time this season he makes the podium with an 8-2!
450 Moto One
If you were hoping for an exciting race for the lead, you'll have to wait and hope for it to happen in the second 450 moto because Ken Roczen completely commanded this one from start to finish. After getting the holeshot Roczen just took off and disappeared. Jason Anderson held second briefly but Ryan Dungey took over that spot pretty quickly, and to his credit, stabilized Roczen's gap for most of the moto.
The battle for third between Josh Grant and Trey Canard was pretty good, with Grant, who was awesome in practice, catching and eventually passing Canard for the spot. Canard hung in there though, not letting Grant duck out. A few laps later Canard took the spot back and gapped Grant, who then rode to a lonely fourth. Tomac came next after getting an absolutely terrible start—he was barely inside the top twenty after one lap. He wasn't really blowing through guys either, and passed Cole Seely, who he shadowed for quite a while, late in the race for fifth. Justin Barcia had a better race, although it won't show on paper. He ran fifth for most of the moto before he either stalled or had a small crash out of view. He ended up eleventh.
250 Moto One
There were a lot of 250 guys going fast in practice this morning, and when it was over we thought the class had the potential to get crazy. Well, it did, and if we'd had just one more lap we might have seen one of the most spectacular finishes in a long time. Cooper Webb got out to the early lead but Jeremy Martin was all over him, eventually take over the lead and slowing pulling a gap. Alex Martin meanwhile moved past Jordon Smith early to take over fourth. At that point the top four were literally all Stars. J. Martin, Webb, Aaron Plessinger, and A. Martin. But then A. Martin and Plessinger got together and they both went down, breaking up the Star lineup. A. Martin was way back in twenty-fifth, but he mounted a charge, laying down some blistering lap times, and charged back to eighth.
Then Joey Savatgy, who was previously running about sixth, caught fire and started blasting his way to the front. When he got there he went to work on J. Martin, passing him at about the halfway point and running away. At this time Webb fell slightly off the pace and the top seven guys were pretty spread out. But then Savatgy crashed all by himself about a lap before the two-lap board came out. J. Martin now had the lead back and Savatgy got going right in front of Webb. He built a little gap over Webb and started taking big chunks out of J. Martin, who had roughly a ten-second lead. Then Webb seemed to perk up and caught back up to Savatgy! When the checkered flag came out the three weren't far from staging a three-man battle to the death for the win, but it was not to be. J. Martin won, followed by Savatgy and Webb.
Morning Report
Yoshimura Suzuki won't have James Stewart or Blake Baggett racing today, as both are recovering from injuries suffered at Hangtown. Stewart popped his shoulder out and Baggett broke his collarbone. The team told us Stewart wanted to come and try practice again, but they made the decision to keep him on the sidelines. Stewart tried practice last week but when he came off the track his grip on his good side was nearly twisted off the bike from holding on so tight. Baggett hopes to be back at High Point, and Stewart might be too. For today, they'll have Matt Bisceglia filling in after he parted ways with MAD Racing Dirt Candy Suzuki, powered by Yoshimura. To see who else is out for today check out our Injury Report.
Elsewhere you know Ryan Dungey would love to put an end to Roczen's dominance. Yes, Dungey won last week, but that was due to a mechanical failure on Roczen's bike. And of course Eli Tomac would love to win here in his home state. Wouldn't it be ironic if he came out and won here on the same track that ended his season last year?
In 250 action Alex Martin holds the points lead, but there's a gang of guys all within a few points. Martin, Cooper Webb, Joey Savatgy, and Jeremy Martin are separated by just four points! Look for Savatgy to try to regain what he had at Hangtown. His rookie teammate, Austin Forkner, has been fantastic and if not for a couple mistakes would have been on the podium last week. Guys like Aaron Plessinger, Zach Osborne, Adam Cianciarulo, and Justin Hill, also have the speed to be up there but have yet to put their mark on the season. Any way you look at it, the 250 Class has the potential to get nuts today.