Thunder Valley Results
US MX 2015
Morning Report
It seems like the 2015 Lucas Oil Pro Motocross Championship just started, but somehow here we are at the third round already. When today's racing ends, the season will be a quarter of the way through, and if things keep going the way they went at the first two races it's going to be a lot harder to write Eli Tomac's domination off as a product of early-season chance. The good news for the competition is that today's track probably won't be anywhere near as rough as Hangtown and Glen Helen, where Tomac really excelled. It won't be muddy either, despite the almost continuous precipitation the area received during the month of May, including some rain last night. The track crew has done a great job of preparing a dry racing surface. During yesterday's amateur program, sections of the track were even getting a little dusty, hardpacked, and blue grooved. The weather report isn't calling for any rain today, and so far the forecast has been accurate—the skies are blue and it won't be long before the crisp chill of morning gives way to short sleeves and sunscreen.
In other news, Trey Canard is here today shaking hands and kissing babies, but he won't be racing. Perhaps he just wanted to see his bike in action, as it will be piloted by Fredrik Noren, who is back on the Factory Honda squad acting as Canard's fill in.
Practice Report
Much better this time around for Red Bull KTM's Ryan Dungey, who traded fast laps with Eli Tomac and Ken Roczen in the second qualifier after not really coming close to their pace in the first. He didn't end up fastest, but roughly half a second slower is a whole lot better than being nearly four seconds back.
In 250 action, Joey Savatgy was fastest in this one while Marvin Musquin, Jeremy Martin, and Alex Martin all bounced back from the first qualifier to post times inside the top five. It still wasn't enough to catch GEICO Honda fill-in rider Christian Craig though, whose blazing time from the first session held up for fastest overall. He says he's been staying in shape and doing motos in the hopes an opportunity would come along, but nobody expected him to be today's fastest 250 qualifier, especially with only three days on the bike.
It was an eventful day here at the True Value Thunder Valley National. The reigning champs made progress, other riders ran into adversity, and the points situation looks different than it did this morning. To read how it all went down in chronological order, start at the bottom of this page and work your way up. To get right down to the action, just start with the blow-by-blow moto reports below.
450 Moto 1
Well, he did it again. After battling with Ken Roczen for the first few laps, Eli Tomac sliced past the champ on the inside to take the lead and that was that. Tomac took off and did what he'd already done four times this season—check out and win by a massive margin. Fourteen-and-a-half seconds, to be exact. Behind him, Ryan Dungey, who was initially right behind the Tomac/Roczen battle before hooking a rut, going off the track, and dropping back to fourth, made his way around Jason Anderson back into third and eventually caught Roczen for second with a little less than two laps to go.
Elsewhere there just wasn't a whole lot going on—the top guys were pretty spread out. Blake Baggett had a good ride and caught Anderson from way back, but even that was anticlimactic, as Baggett made the pass look easy and Anderson didn't fight back. Weston Peick and Chad Reed either went down or went off the track on the first lap, because they both came around in dead last. Incredible ride from Broc Tickle, who finished in fifth after rounding the first lap in seventeenth.
450 Moto 2
After dominating five straight motos, Eli Tomac finally showed a chink in his GEICO Honda armor today when he went down while extending an already big lead in the second moto. He went down hard too and was unable to rejoin the race, which means the big points lead he had over Ryan Dungey, who went 2-1 for the overall win, is gone, and so is the red number plate. Tomac looked like he was in pain as he rode off the track in the back of the Asterisk Medical Mule, and as of now, there's no word on whether or not he suffered any serious injury. Initial reports are that there are no broken bones, but we'll post more when we learn for sure.
We mentioned Dungey went 2-1 for the overall, but he nearly didn't. Ken Roczen had a big lead on Dungey in the second moto but had a little crash late in the race, which handed the lead over to a charging Dungey. Had Roczen held on, he would have taken the overall. Blake Baggett rounded out the podium in this one with a very distant third.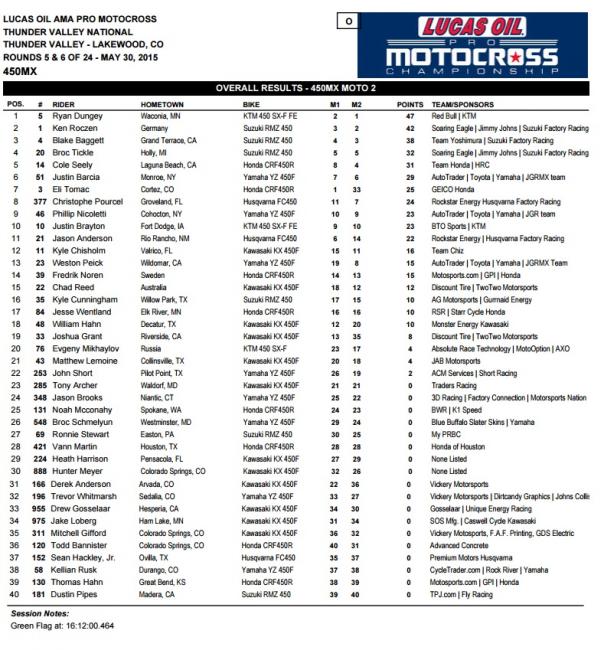 250 Moto 1
You know those points Jeremy Martin lost last week when he had to charge from the very back in both motos? Well, he got a bunch of them back in the first moto in yet another dominating ride that showed us why he's sporting that big number one. How dominating? He holeshot and simply checked out, winning by almost nineteen seconds over Zach Osborne in second place. Speaking of Osborne, the Rockstar Husqvarna Factory Racing rider put in a great ride. He spent most of the moto chasing Jessy Nelson around, made the pass very late in the race, and pulled a gap.
Nelson himself initially held second place over Marvin Musquin, but jumped off the track, which allowed Musquin into second place. Musquin tried to go after Martin, but he had a big crash and took several moments to gather himself before getting going again. The way he was kneeling on the ground and shaking his head vigorously made it look as though he was in some serious pain. Credit to the Frenchman for even continuing on with the race. He ended up fourteenth.
Fantastic stuff from GEICO Honda fill-in rider Christian Craig, who says he's only had three days on the very same bike he came through a bunch of guys on to take fourth place in this moto. Joey Savatgy also had a good ride after going down early in the race. He was able to charge back to seventh, clipping teammate Chris Alldredge on the final lap.
250 Moto 2
Some motos are exciting, and packed full of action. This one did not fall in that category, unless you're a Jeremy Martin super fan. Martin once again took the lead immediately and checked out. Behind him was Marvin Musquin, who was all by himself, as was Zach Osborne, who was in third after getting by Jessy Nelson. Alex Martin had a shot at another podium in this one—he started well and passed Osborne early on—but something went wrong and he had to pull into the mechanics area. He rejoined the race but was extremely far back and stood no chance of being a factor up front. Joey Savatgy, Chris Alldredge, and Matt Bisceglia didn't have a chance at battling up front either after being held up in a first turn pileup/traffic jam.
Nelson looked good in the first half, but started to fade after that. First Adam Cianciarulo went by, then Jordon Smith, and finally Christian Craig. Speaking of Jordon Smith, the GEICO Honda rookie had a great weekend. He was sixth in the first moto and battled hard with Cianciarulo for fourth in the second, narrowly missing out on the spot. Still, 6-5 in your third pro National is awesome!