Walker Wins The Megawatt
Megawatt 2016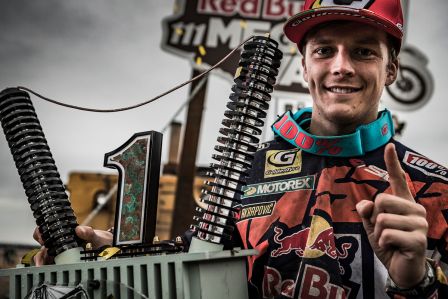 Jonny Walker's eternal rival, the veteran Graham Jarvis finished fourth in the three-lap epic, with Red Bull KTM's Taddy Blazusiak in fifth place. Young KTM rider Manuel Lettenbichler of Germany returned from injury to take sixth and Red Bull KTM's Alfredo Gomez of Spain was seventh after experiencing some technical issues.
Walker clocked a total time of 2:47:27.77 hours, just three seconds ahead of the young Spaniard, but the win also signaled his solid return to form. At the beginning of 2016, he had the SuperEnduro Indoor title in his sights, then fractured his leg and has since been working on his rehabilitation.
Walker was the fastest qualifier on Saturday onboard his KTM 300 EXC in what turned out to be very different conditions to race day Sunday when it was seriously wet. He said he realized from the outset that the race was going to be a lottery. Blazusiak was fast off the start in the opening lap but Walker was close behind.
Walker: "I tried to pass Taddy because I was eating a lot of his roost and I didn't want to get my goggles fogged. I passed him in some sandy bits and we were riding together, but there's nowhere here where you can make time on these riders, there's no really fast bits where you can pull. I knew it was just going to be a gamble."
Walker and Jarvis made a break at the front in the opening lap but in the second lap Walker said he just cruised. "I tried to save as much energy as I could and then I made a break for it on the last one and managed to get about 100 meters. I was scared of the last hill, but I did get up it. As long as you stay confident, then you're good, really."
Blazusiak admitted he had made a lot of mistakes on the opening lap. "I got stuck on that hill and then, when I found the lines that everyone was using it was too late. I was so far behind in the second lap I just cruised. Then I decided to go for it on the last lap and for sure I had a lot of fun jumping all the rough stuff and riding a bit harder. I am happy to have got to the finish and a good job from Jonny." Taddy said he was pleased to have played a part in bringing the event to Poland, and to give the Polish riders a chance to compete in an international event.
It was a difficult day for Gomez who got away well but already realized he had clutch problems in the first lap. "It was not the best day, but that's racing and these things happen. I started very good and I took the lead for about five minutes but then I started to feel the bike was not riding as normal and the others were passing me." Gomez decided to ride out the race as best he could but admitted that in parts, the deep soft sand was like riding a beach race. "It was crazy, so soft in some places you can lose the bike, but I enjoyed the last lap and I just wanted to get to the finish."
Results Red Bull 111 Megawatt 2016
1. Jonny Walker (GBR), KTM, 2:47.27.77 h
2. Mario Roman (ESP), Husqvarna, +2.59 sec
3. Wade Young (RSA), Sherco, +19.89
4. Graham Jarvis (GBR), Husqvarna, +28.35
5. Taddy Blazusiak (POL), KTM, +6:52.97 min
Other KTM
6. Manuel Lettenbichler (GER), KTM, +10:17.17
7. Alfredo Gomez (ESP), KTM, +18:40.52