What We've Learned
USA Supercross 2014
Two races remain in Monster Energy Supercross, and they might be the biggest blowout parties of the bunch—New York and Las Vegas. That's the fun stuff. The serious business of results and racing are nearly wrapped, though, with Ryan Villopoto a near-lock for this title.
Four in a row means we've seen this all before, right? Maybe not. I've followed every race closely and watched nearly all of them in person. I've learned a lot this season. Allow me to dive deep and share these lessons on today's 450SX top five.
Ryan Villopoto:
Paradoxically, this is both RV's best season during his four-year title run and maybe his worst. Points wise he's been under less pressure here than ever: In 2011 it went down to the wire, in 2012 he had legit heat from Reed and Dunge until they got hurt, and in 2013 he had to stage an epic comeback against Millsaps. This year he hasn't had much to worry about, only Roczen kept him close in points for awhile and RV was never stressing on Kenny—all of those "this partnership can't work" thoughts have been proven wrong. Also: Hard to argue with a 48-point lead with two to go. However … he's taken the vaunted-in-bench-racing-circles "straight up defeat" this year from Roczen, Reed and Stewart. He did chew from ninth to first in Phoenix, he did kill Daytona, and I think this Seattle win, where he kept a furious Stew charge at arm's length, was his most impressive of the year. Still, he was not unbeatable race-to-race this season. Of course, with this points lead, he didn't have to do that, so this one goes into the vault forever, without anyone ever really knowing the answer: did the other guys get closer, or was just playing it smart? And that's the hardest question to answer in racing.
I have two other thoughts on RV this season: First, we can use him to see why they hold the Olympics every four years. When you're competing in individual sports with so much of a focus on hard work from such a young age, and that's the majority of Olympic sports, it's very hard to stay at the very peak for this long. There's a reason top athletes in those key Olympic sports retire so young. Or get a break for that long. There's just so much pressure at such a young age and so little margin for error. Luckily, they get built-in break time (by the way, the retired Michael Phelps is now back in the pool). For RV, he's dealt with the same pressures yearly, the same no-margin-for-error weekly. And while Jeremy McGrath won four straight, he could take trips to the lake and play around on BMX bikes while also being the best supercross rider in the world. RV's good, but he doesn't have that kind of an edge. These four years have taken absolutely everything he has. Four years at the top is a long time for an athlete, and that's why the Olympics let them freeze those years and basically make it a lifetime accomplishment.
Second thought: In sports, you often see a veteran team coast through regular season games and look vulnerable, only to become damned-near-impossible to eliminate in the playoffs. These teams just know how to win, simple as that. I think that's where we are with Villopoto right now. There's an intangible element where he just knows how to win titles, and that's become his greatest asset.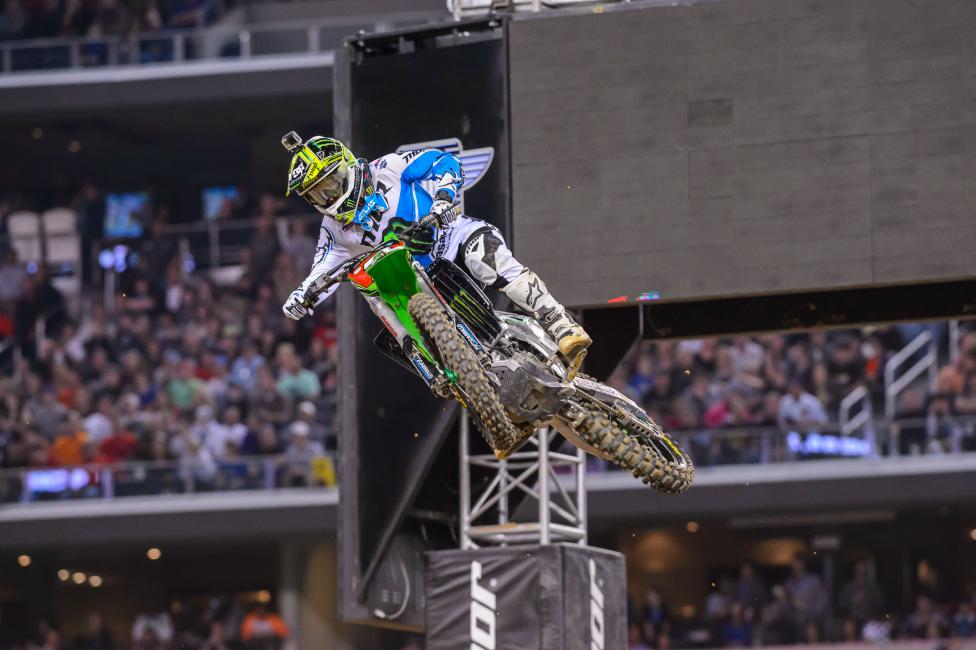 RV is headed for history in 2014.
Photo: Simon Cudby

James Stewart:
A renaissance year for James, the closest we've seen him get to the lofty heights of his past. Now people are buzzing about his talent again. That's really not fair because, in this sport, talent is a blessing and a curse.
See, when James is doing badly, everyone seems to have advice on what he needs to do. The things I've heard through the "what's really wrong with James" or "what's really going on with James" gossip mill during the last decade are mind blowing. Literally EVERYTHING has been said—and by the way, if you take 1 million guesses at anything, and a few are correct, that doesn't mean you were actually right.
So, a million "what's wrong" theories, but when things go right, we go right back to his talent. Well, the talent was there all along. This year, James needs to get more credit for his love of the sport and his dedication to his craft. Obviously, all of those years of injuries, bike and team problems, not racing outdoors and just basically missing a lot of races took a toll on him. He lost that edge and then the cloak of invincibility that he'd built since he dominated PW50 races. For a while he could just not race when he couldn't win, but eventually he had to face the music, and over the last few years, we've seen James look like a mere mortal quite often.
There can only be one logical explanation for his return to the front this year and that's thathe did not give up. This wasn't just talent, this was mental strength and tenacity. He kept believing he could get back there someday, and he was willing to dig to get it done. If almost anyone else had climbed out of that hole, the first topic would be their determination and persistence. James is so damned good on a motorcycle, though, that we always praise the talent, first. You know what, though? This is a guy who carved a reputation as a kid for falling asleep to supercross videos. His was born with a dedication to his craft and we shouldn't forget that. I thought for sure that James was heading the Windham route, winning on occasion, soaking up some cheers and keeping the checks coming. I didn't think he'd work his way all the way back to his old level, but he has, and the key is that he worked to do it. He wouldn't settle for that. For a guy who once had such a massive edge on the field every time he showed up, it had to be shocking to go to races and just get beat. I'm impressed that he was able to deal with it, fight through it, and dig himself back out.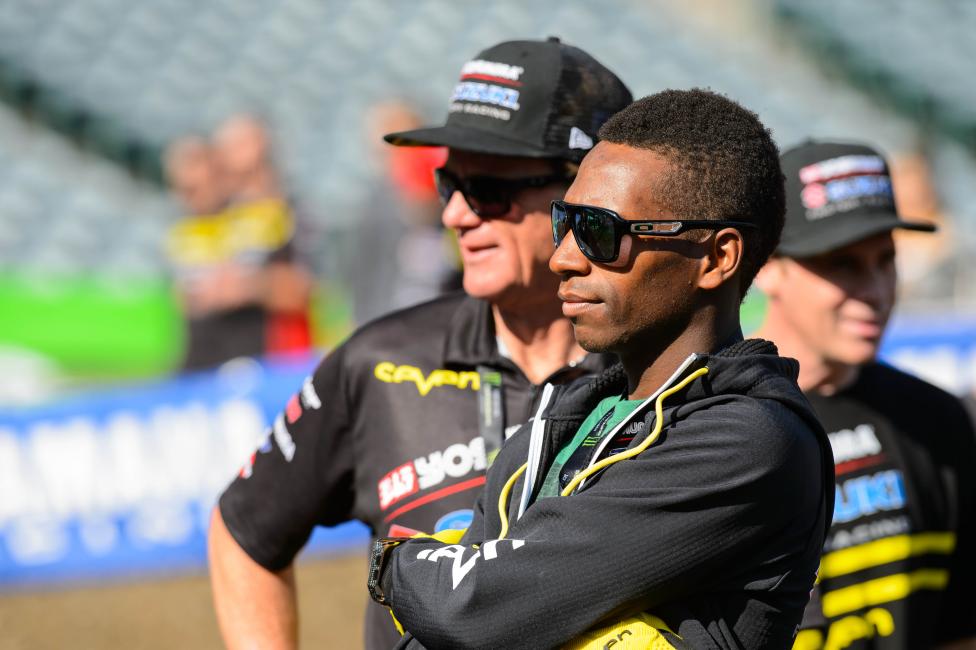 It has been a renaissance year for James Stewart.
Photo: Simon Cudby

Ryan Dungey:
You could write a book about the guy above (and hopefully someday someone will) but it's hard to even get a paragraph together for Dungey. All there really is to say is what Matthes said in Observations this week: Dungey is so so so so so so so so so so solid.
Perhaps what we've learned most about Dungey through the years is that it's possible to succeed in this sport without having the sport break you. At the rate he's going, Ryan is going to retire with tons of titles, wins, money and respect, but also not leave behind any drama. You don't hear of huge personal issues, grudges held, family drama or any of that, and he's not going to walk away without a giant case of X-rays and MRIs and a permanent limp. Hopefully. You're not going to hear about him screwing people over or people screwing him. Overall, his career will be a success story through and through, and he won't have an axe to grind with fans, industry people, the press or really anyone at all. Pretty much everything is good! Watch all the reality shows Troy Adamitis has put together on this sport and you see how gnarly it really is. It's good to know it's still possible to win without a bunch of crap happening as an inevitable side effect. Seriously, if you were a parent of a kid who wanted to race, and God came down one day and said he will gift him a Dungey career, would you not be out-of-this-world stoked for that?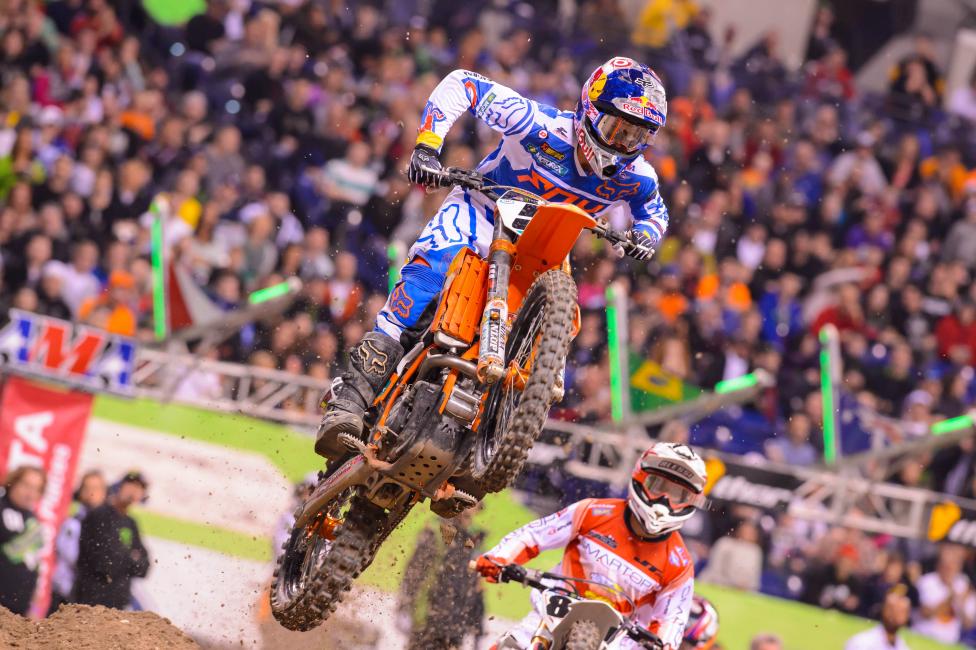 Dungey has been solid in 2014 ... like he always is.
Photo: Simon Cudby

Ken Roczen:
I made an error. A few years back I was researching stuff for the 2010 Motocross of Nations in Colorado and saw so many similarities between the rising star of the GP scene, Roczen, and the rising star over here, Justin Barcia. Turns out that youth, blonde hair, whips and scrubs do not make a motocrosser similar. Barcia and Roczen are pretty much fire and ice. No wonder they keep clashing.
It's always been clear Roczen has the tools to make this work—he picked up supercross, often the Achilles heel of GP transplants, scary fast. He's been up front pretty much every time he's raced—anywhere and on any size or type of bike. I think some were worried if the fun-loving kid was dedicated enough, though. Of course, when he was winning 250 Nationals last year and talking about eating In N Out, everyone thought it was fine. Then when he stopped winning the races, suddenly the dedication was back in question.
Signing with Aldon Baker seemed like a real test. But this year has proven Kenny wants it more than his fun-loving demeanor lets on. I've seen the way he felt about bad races or losing the red plate. As a rookie in the class, he doesn't have to care as much. He could suck for several weekends in a row and just use the "learning year" excuse. He does not want to. He wants to win and win and win.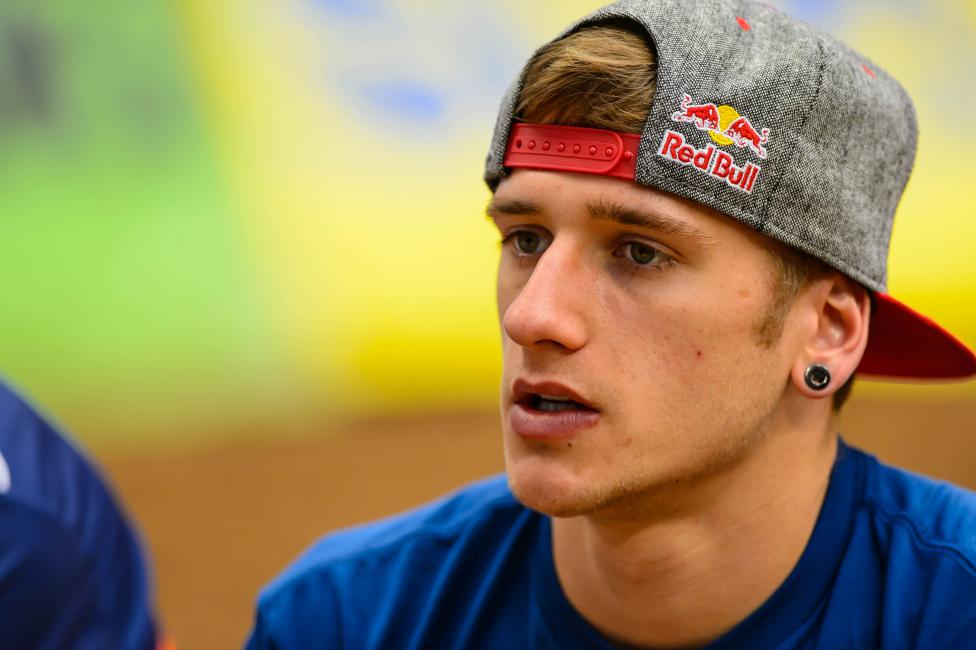 The rookie has been a bright spot.
Photo: Simon Cudby

Justin Barcia:
Maybe I got a little crazy earlier in the year when I said Barcia didn't have the same talent level as the dudes he's battling with for wins, but I can explain this again. At this level everyone has strengths and weaknesses, but the weaknesses are all relative. These dudes can kick our ass in every facet of everything all day long. They're all amazing. But when you get down to the difference between a seventh, a fifth, a third and a first, which is the business these riders and teams are in, when one second a lap is the difference between a privateer and a millionaire, that's the hair-splitting world we're dealing with, kids.
If you're weighing strengths and weaknesses on the scale of the best in the world I don't think Barcia is the flat out fastest dude in the world on a random Wednesday afternoon at a random track. Some guys might be better at just swinging a leg over the thing and killing a lap by themselves. Maybe their riding style shows up in the mythical textbook riding style textbook. However, just this week we did a Where Are They Now story on Phil Lawrence. In the subheader, I put "one of the fastest riders of the 90s." Now, that might make you wince. "Really, a guy who won one 125 supercross ever is one of the fastest of his decade?" Well, for that, you've got to talk to guys who were there. Apparently, Factory Phil could rip in his day. However, bringing that speed to the track and handling the mental part and being confident and all that is a totally different thing. We've heard about this stuff a million times.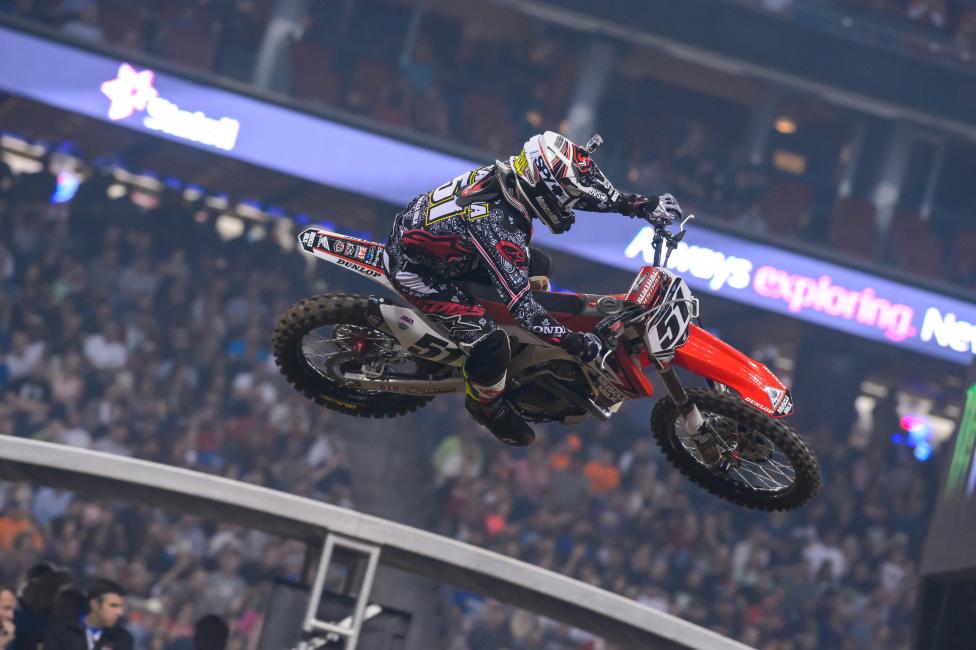 Justin Barcia has turned the corner after a tough start to the season.
Photo: Simon Cudby

Barcia, however, suffers from none of that. In fact, I'd bet he gets better when he gets into a combat situation. He's just all heart, guts, desire and competitiveness as opposed to other guys who take motorcycle riding into the realm of performance art. Some guys are really good at riding a dirt bike, Barcia gets better when he's racing one. Okay, so his zest for competition leads to aggressive riding and passing that not everyone likes. It's part of his deal. Also, as aggressive as he is, Barcia is not a crasher, which is absolutely huge.
And, hey, we've seen some of the all-time greats approach it like Barcia and emerge as, well, all-time greats. Rick Johnson comes to mind. We'll see what happens—we're all learning here.